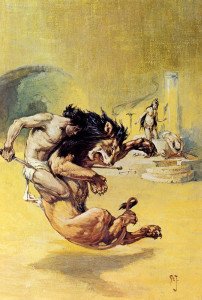 J. Allen St. John was a fine golden age illustrator of fantastic worlds, early adventure fantasy and science fiction. He is most famous for his Tarzan and John Carter of Mars art for Edgar Rice Burrough's (ERB's) famous work in novel and pulp magazine form but his influence reached Roy G. Krenkel and the imperious Frank Frazetta and he lived through one of the most powerful periods of change in human cultural history.
Only Connect
J. Allen St. John's life spanned the fascinating period of change that broke through the beginning of the 20th Century as technology and radical free thinking bore the child that became modernism in art, music and literature. Born in Chicago to first generation Irish immigrants in 1872, he was moved to Paris for three years with his mother (a portrait painter) in 1880 just as the full force of Impressionism, washed across the salons and cafes of Parisian creative life. The glorious paintings of Monet, Renoir, Manet and Degas and their experiments with light penetrated even the dourest of traditional drawing schools.
It was an era when technology brought colour into the print technology, photography and, a few years later, into the movies too. And music in the 1920s breaking the hold of classical traditions, the powerhouse of Chicago Blues, Blind Lemon Jefferson and Big Bill Broonzy. It is more likely that St. John listened, if anything to the jazz flavours of Gershwyn or the syncopated joys that inspired F. Scot Fitzgerald's Great Gatsby, the flowering of art deco.
Edgar Rice Burroughs and Robert E. Howard
Although he lived through this period of change St. John's own revolutions were limited to the nature of his publications. He escaped from the formal drawing school straightjackets and began and was amongst a burgeoning class of talented illustrators, coinciding with Howard Pyle, N.C. Wyeth and Maxfield Parrish amongst others, whose worked adorned the fantasy adventures that have become a popular phenomenon of the early twentieth century, as new book publishers and pulp magazines grew in popularity. He became the artist of choice for ERB's Tarzan and John Carter of Mars, and illustrated many covers for the likes of Amazing Stories, Fantastic Adventures and Weird Tales where his cover art often featured the pulp heroics of Robert E. Howard, E. Hoffman Price and H.P. Lovecraft.
Style, Techniques and Influence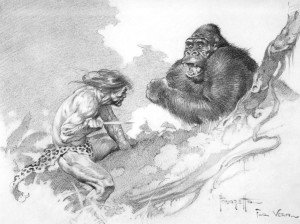 St. Johns' art was fluid and graceful, full of character and power. His illustrations of the wildlife and the creatures in Tarzan are amongst his most successful works because he captured the natural grace of the world around him. His portrayal of the heroic figures in the stories captured the same grace and natural charm, but he was rooted in the sensibilities of his formal training: the women were demure and poised, the men were lithe and muscular and completely without the exaggeration of form that distinguished his most well-known successor, Frank Frazetta. Other great artists who later revelled in the same arena of adventure fantasy, such as Roy G. Krenkel (see here for a perfect comparison) and Jeffrey Jones also enjoyed the restrained lines of St. John and his influence can be found in the graceful curves of the Silver Surfer and Captain America (rather than Superman or Thor) of the hugely successful comic-book films that have come to dominate the movie charts.
Links
It is hard to find much of St. John's work in print, but there are some books available from Old Tiger Press (see a review here) and several good sites online with examples of his work in the fantastic worlds of science fiction and fantasy.
Helpful external links: a short biography of J. Allen St John here, J. Allen St John and John Carter of Mars, J.  Allen St John and ERB and an incredible site with so much art on the Golden Age artists.
Pinterest Board with other Golden Age Illustrations images here.
The thread for this series of posts begins with Only Connect.
Coming soon: Futurism in Art; Futurism in Music; Cubism; Vorticism; The Fauvists; Abstract Expressionism in Art; Pop Art; Pulp Magazines; Baudelaire and the Symbolists; Bauhaus; Debussy's Expressionism. Einstein and the Fantastic.
Other interesting Links from this blog: Roy G Krenkel, Jeffrey Catherine Jones,
I hope you enjoyed this blog. There's so much to write I barely scratched the surface, so much more to come.